Iberia Itinerary For Families
Back in June/July of 2019, we spent roughly 3 weeks (20 days) traversing Southern Spain (Andalusia) and Portugal. Below is an itinerary to jumpstart your own Spanish and Portuguese adventures!
MADRID, SPAIN (2-3 Days)
Madrid is truly a city full of life and culture. Honestly, we really didn't give ourselves enough time to explore this historic city. We basically used our day here for the kids to adjust to the jetlag before heading south to Andalusia, so I'm suggesting a full 2-3 days to take in the grandeur of Madrid.

What we saw:
• A stroll through Parque de El Retiro
• Puerta del Sol
• Plaza Mayor
• Royal Palace
• Tapas at Mercado San Miguel (Tapas are an essential ingredient of Spanish culture and must be experienced on a trip to Spain.)

Day trips from Madrid:
We did not have enough time for day trips during our stay in Madrid.

What we wished we had time to see/do:
• Visit Toledo or Segovia
• Flamenco Show
• Watch a Real Madrid game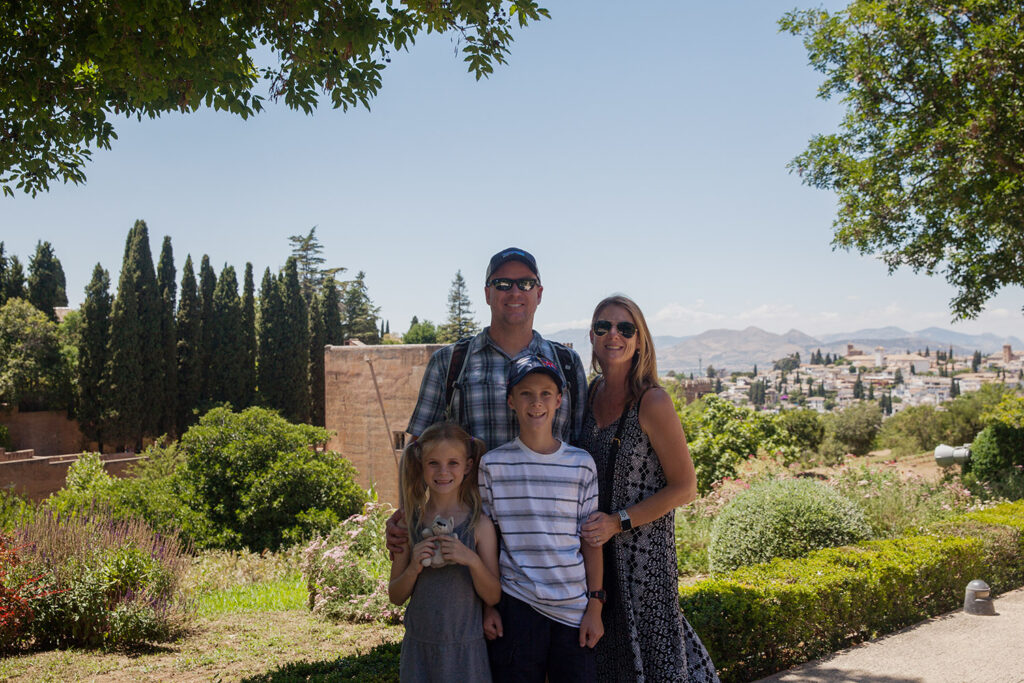 ANDALUSIA, SPAIN :: Marbella, Granada, Seville (4-5 Days)
We took a high-speed train from Madrid to Marbella. This is where we based ourselves during our stay in Andalusia, but there are lots of other beautiful cities along the Costa del Sol. Andalusia is a region along Spain's southern coast and was under the Moorish rule from 8-15th centuries. You can spend a month here and still not run out of things to see. (Travel Tip: Spain requires an International Driver's License. We obtained ours at AAA.)
What we saw did in Marbella: (Read full post on Marbella)
• A stroll through the pedestrian streets of old town (Marbella's history began around 1600BC when it was conquered by the Romans.)
• Dine on the traditional churros con chocolate
• Marbella waterfront
• Beach day in the Alborian Sea
Day trips from Marbella:
• Alhambra, Granada
• UNESCO World Heritage Site Archaeological Dolmens of Antequera
• Gilbraltar (UK Territory)
• Seville (Andalusia's capital, Seville is famous for its flamenco dancing, architectural designs, traditional festivals, and controversial bull flighting. It's definitely a city leaves its mark.)
What we wished we had time to see/do:
• Ronda
• Cordoba
• Cadiz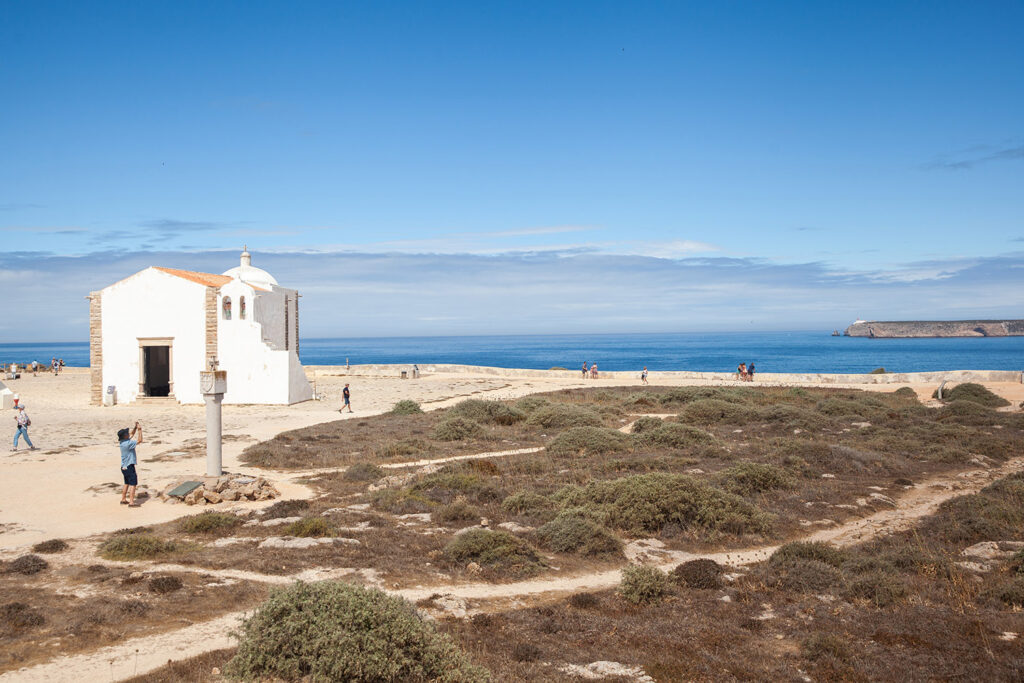 ALGARVE, PORTUGAL :: Salema, Lagos, Sagres (2-3 Days)
Here along the Algarve's soaring cliffs and golden beaches, in the 15th century the Portugese set off on their epic journey that led them to discover other peoples in culture. Nowdays, over 4 million visitors flock to Portugal's warm southern coast to the laid-back beach villages of the Algarve. We based our stay in an old sleepy fishing village named Salema. (Travel Tip: There is no train travel from Andalusia to the Algarve and rental car prices are astronomical if you don't return the car in the same country you rent it from. So we opted for car transfer service called DayTrip.)
What we saw did in Salema:
• Beach day at Salema Beach
• Visit the 150 million year old Ornithopod dinosaur footprints!
• Stroll through the narrow cobblestone roads and quaint main square

Day trips from Salema:
• Castro Marim (Knights Templar Medical Castle)
• Visit the white washed houses and 16th century walls of Lagos.
• Menir Do Padrão (Standing stone that dates back to the 4th Millennium BC)
• Fortaleza de Sagres (15th century fort to protect the raiders from North Africa. Henry the Navigator also devised expeditions to the uncharted seas from this fort.)
• Lighthouse of Cabo de São Vicente (Land's End/Europe's most south-westerly point.)

What we wished we had time to see/do:
• Benagil Caves
LISBON, PORTUGAL (4-6 Days)
Lisbon is where we spent the bulk of our time in— about 5 days. Lisbon is arguably Western Europe's most underrated capital city. It's also one of the continent's oldest. First founded as a trading port city in 1200 B.C., Lisbon pre-dates Rome. Most of the old city was destroyed in an earthquake in 1755, but today the "city on seven hills" is thriving. (Travel Tip: Save money with the Lisboa Card. It gives you unlimited use of Lisbon's public transport, entry into 26 museums and attractions, and discounts on much more.)
What we did in Lisbon:
• Praça do Comércio
• Lisboa Story Centre
• Jerónimos Monastery
• Museu Nacional de Arqueologia
• Belém Tower
• Castelo de São Jorge
• Museu Nacional dos Coches
• Museu da Carris
• Time Out Lisbon
• Lisbon Tram #28
• Museu Arqueológico do Carmo
• Pastéis de Belém
• Museu de Marinha (The world-famous Maritime Museum showcasing a map from 1510 and an anchor belonging to the "Nina" and lost by Christopher Colombus in 1493 on his return from first voyage to the new world.)
• Santuário de Cristo Rei
• Frigate Dom Fernando II e Glória
• Ginjinha Bar
• Fado Dinner/Experience
Day trips from Lisbon:
• Sinta (Castelo dos Mouros & Pena National Palace)
• Tomar Convent of Christ (UNESCO World Heritage Site of a 12th century Templar castle and convent.)
• Coimbra (This riverfront city is home to a preserved medieval old town and historic university.
What we wished we had time to see/do:
• Museu Nacional do Azulejo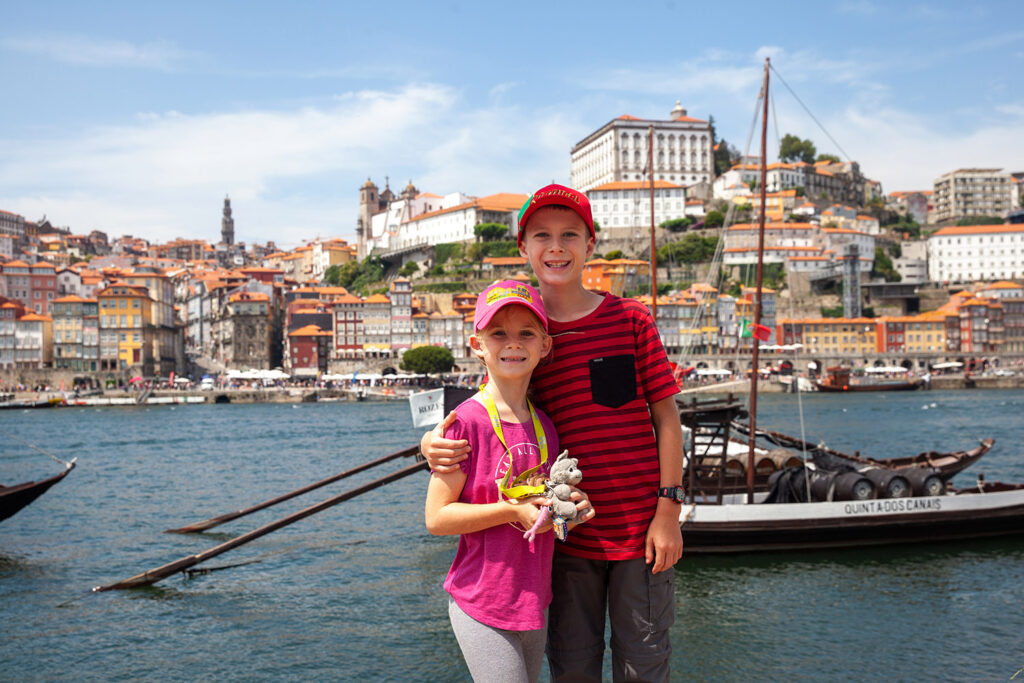 PORTO, PORTUGAL (2-3 Days)
The city of Porto, built along the hillsides overlooking the mouth of the Douro river, is an outstanding urban landscape with a 2,000-year history. The Romans gave it the name Portus, or port, in the 1st century BC. By the end of our three week trip our kids were exhausted so we didn't visit any museums. (Travel Tip: Coast down the peaceful waters of the Douro River by boat passing under Porto's six beautiful bridges.)

What we did in Porto:
• Cais da Ribeira
• Livraria Lello (Known as one of the most beautiful bookstores in the world but also said to have inspired the creation of Hogwarts in the Harry Potter series.)
• Admire the Igreja do Carmo
• Douro River Cruise
• Walk across the Luís I Bridge
What we wished we had time to see/do:
• Visit Braga
• Wine Tour in the Duoro Valley
Hope this Itinerary has helped you plan your own adventures though the Spain and Portugal!

(Disclosure: Burbs2Abroad traveled to the above location as guests and was not compensated for this review. As always, our opinions are our own.) Time of Year Visited: June/July 2019